Artisan Why Exhibit

Market Overview
Within 90 minutes of Renfrew is home to 2.4 million people. Major cities & regions include: Ottawa , Napean, Southwestern Quebec, Kingston, Trenton, Belleville, Cornwall, Renfrew County-
Renfrew County's forest industry has a 300 year old history logging from the Ottawa Valley and through parts of Algonquin Park and the majority of the population lives in a Rural area. The event combines the best of both of these sectors - the artisans who create products from the forest and the land.
Sawtech Log & Rural Expo welcomes the opportunity of working with this community. We view this event AS an opportunity to showcase talented artisans and their aesthetic pieces of work. We have put together an exhibitor package that was designed for the small business. We have named this package the Artisan Gallery and have created an outdoor area dedicated to the community.
MARKETING
The exhibitors at SawTech Log & Rural Expo will be promoted, online, through social media, newspaper, radio, posters, invitations, brochures, trade publications etc. Promoting the participants as a group will enhance delegate or visitor participation. We market the event as a place where rural landowners, contractors, cottagers as well as industry could come together in one setting to see and purchase the products produced from the region. We are targeting rural and city dwellers, woodlot owners and cottage owners throughout Ontario.

Specific for this Community we understand that your audience are people who appreciate handcrafted and locally made pieces. It is our plan to focus our marketing efforts using advanced marketing segments in Facebook and Instagram platforms.
Additional
Each exhibitor will receive 50% off passes that they may distribute to their clients as promotions. Many of our clients are using the 50% Discount Passes to promote the event on their facebook, email list and website. Tickets at the door are $10.00 and a Discounted Pass represents a nice gesture to reward your loyal customers.
Very successful, enjoyable weekend
Lou, Freymond Lumber
Lots of good customer contacts
Dick, Sylvana Import Trading
Very good show, good turnout
Tim, Toromont CAT
Artisan Gallery Package Booth Prices starting at $300.00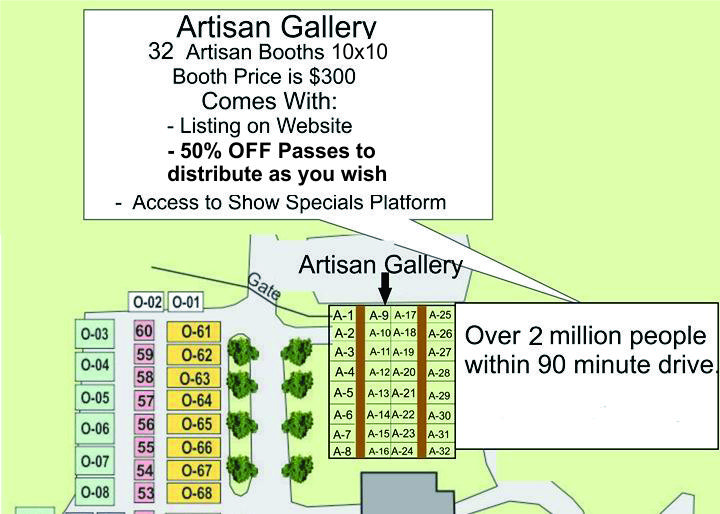 ---